Published on: 22 July 2020
---
As we see the ease of the COVID-19 lockdown and begin to examine the job market data, the high amount of job adverts for coding professionals has been most notable.
Organisations are calling out for professionals with the right coding skills to support their business through the accelerated rate of digital transformation. It is the perfect time to learn to code and enter a sustainable industry.
Discover what code could do for you and how taking the leap into code course can provide you with a number of tangible career benefits.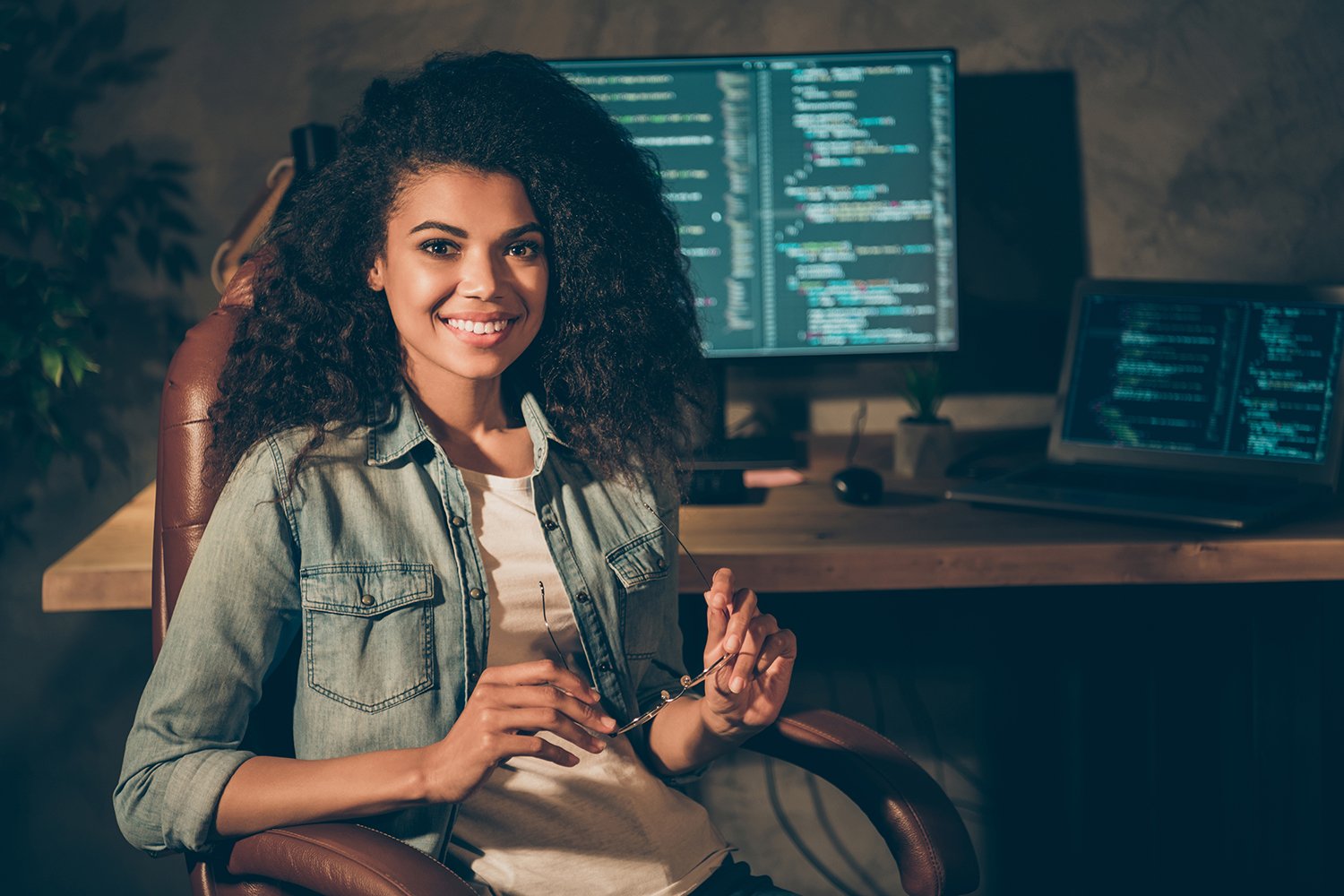 Why should I learn to code?
The current climate has highlighted how much we need technology. With this comes the need to get to grips with certain digital literacies. Every industry is crying out for coders and are struggling to find professionals with the necessary skills for efficient web development.
If you've been considering a career change into coding, not only will you realise it's exponential benefits, but you'll soon come to realise the lucrative nature of this thriving industry.
Explore the benefits of coding
A whole new world of job opportunities
The beauty of choosing code is that it can help open up brand new doors. Seeking a job in a pioneering programming company? Coding can get you there. If freelance web development is more your style, this is one of many areas that coding can set you up for.
A chance to be creative
Coding gives you a platform to learn brand new concepts and apply them to tantalising new projects. From designing an enticing landing page to building the next best app to hit the smartphones, coding provides the perfect space to create a pioneering new project.
Job security
Coding can bring you a secure way of working. In a world that shows no signs of slowing down on the tech front, you can find a sense of job security.
The best way to do so is keeping up to date with evolving knowledge and trends and to work on making yourself resilient and adaptable, because ultimately, this equals employability. Coding courses will bring you up to speed and ensure you have all the relevant skills.
The ability to learn and utilise problem-solving skills
The programming world is unique. In that, you need to learn the skill of breaking down a problem into small, feasible steps while also adopting a language that the computer understands to logically create a working program.
Develop a new mindset
When you acquire this particular problem-solving skill, you develop a very specific mindset when a problem rears its inevitable head. You'll also be adept at processing large amounts of necessary information.
Coding offers you the chance to take a step back and approach problems by looking at the bigger problem and throwing your code at those frustrating brick walls to get to those rewarding resolutions.
Rich rewards
Coding brings a whole host of fresh challenges and even though it can take a little patience, in the end, it can be extremely rewarding seeing all your hard work pay off. With a starting salary average of £25k-£35k, you'll be reaping monetary rewards as well.
Working remotely
With a vast majority responding to the current pandemic by setting up remote working spaces, coders can obtain this set-up long after pandemic status is a thing of the past.
How do I learn to code?
Now that you know the benefits of the coding world, the next logical step is to work out how to get the right coding skills. Discover our fully charged, fully evolving, Full Stack Developer course.
Not only is this coding course credit rated by Edinburgh Napier University - making it the only university credit rated coding boot camp in Europe - it's an intensive coding course created and validated by tech industry experts, to get you career-ready.
If coding is the career change you've been waiting for, Our Full Stack Developer course has got you covered with all the essential skills for your career. From HTML5 to CSS3, you'll also be taught how to host and showcase your projects on Github and other repositories so you can present these to potential employers.
Another benefit of the Full Stack Developer Course is that it's both back end and front end. Multiple developers step aside. Turning complete beginners into ultra-shiny coding experts through the use of qualified industry experts, mentor meetings and online support, your career change is waiting.
If you need further evidence that coding is a career change to consider, look no further than current IBM challenge, Call for Code. This global competition sees select hopefuls seek to develop solutions for COVID-19 as well as climate change.
With one of the solutions being a "community-driven mobile app that is intended to replace physical lines at shopping centres, small businesses, and polling places with on-demand virtual lines, to enable a safer way to manage entry during Covid-19," is there any question of the limit to coding's capabilities?
Why pick Learning People as your go-to career change experts?
A cost-effective alternative to traditional university education

Learn the most in-demand skills for today's job market

Award-winning StudentCare

TM

and Career Services

Partnered with biggest accreditors in the world
We're also career tech experts and our Full Stack Developer course is designed for you to finish with a professional portfolio and career ready skills to take the job market by storm.
By brushing up on the latest skills for your career change, you'll make sure you've got the expertise to meet the ever-growing digital skills gap and alter the coding landscape. Get in touch today to take the first steps into making that change.