If staring at a screen in a sea of magnolia and strip lighting sounds like your kind of hell, and you don't want to work in a place where laughs are met with disapproving stares, then you've come to right place.
We have some office eye candy for you to dive into with plenty of unique quirks to tickle your professional pickle. Even if you're unlikely to move overseas to work in one of these wonderlands, we've found some local wonders, plus there's no harm in dreaming right?
As Tupac Shakur once said: 'Reality is wrong. Dreams are for real'.
What... we're hip.
So here are just some of the coolest offices in the world with playful and unique designs to get fuelling that imagination…
1. Get creative and scribble on the walls at Wodify in Portugal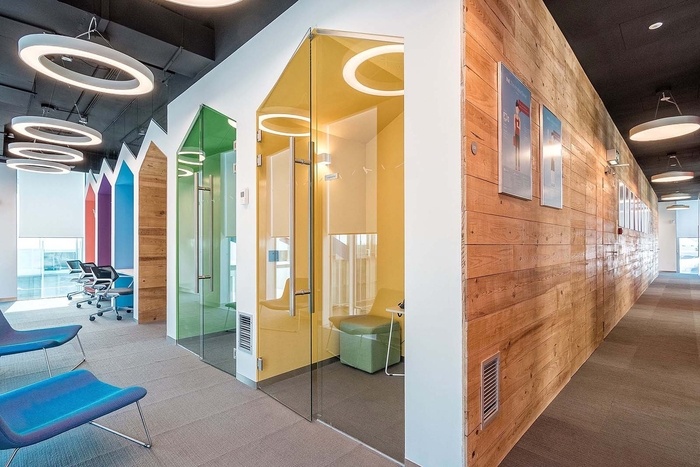 Image source: MCA
Software company Wodify in Portugal may specialise in gym management software, but that doesn't mean you have to appreciate wheatgrass shots and yoga to work there. Amongst the two floors of natively inspired interior are colourful rooms, vertical gardens and more televisions than a media mogul's dirty fantasy and, most importantly, the chance to write all over the walls without getting fired. For emphasis, we will stress that again. They. let. you. write. on. the. walls.
2. Never skip leg day on this unique staircase at Medibank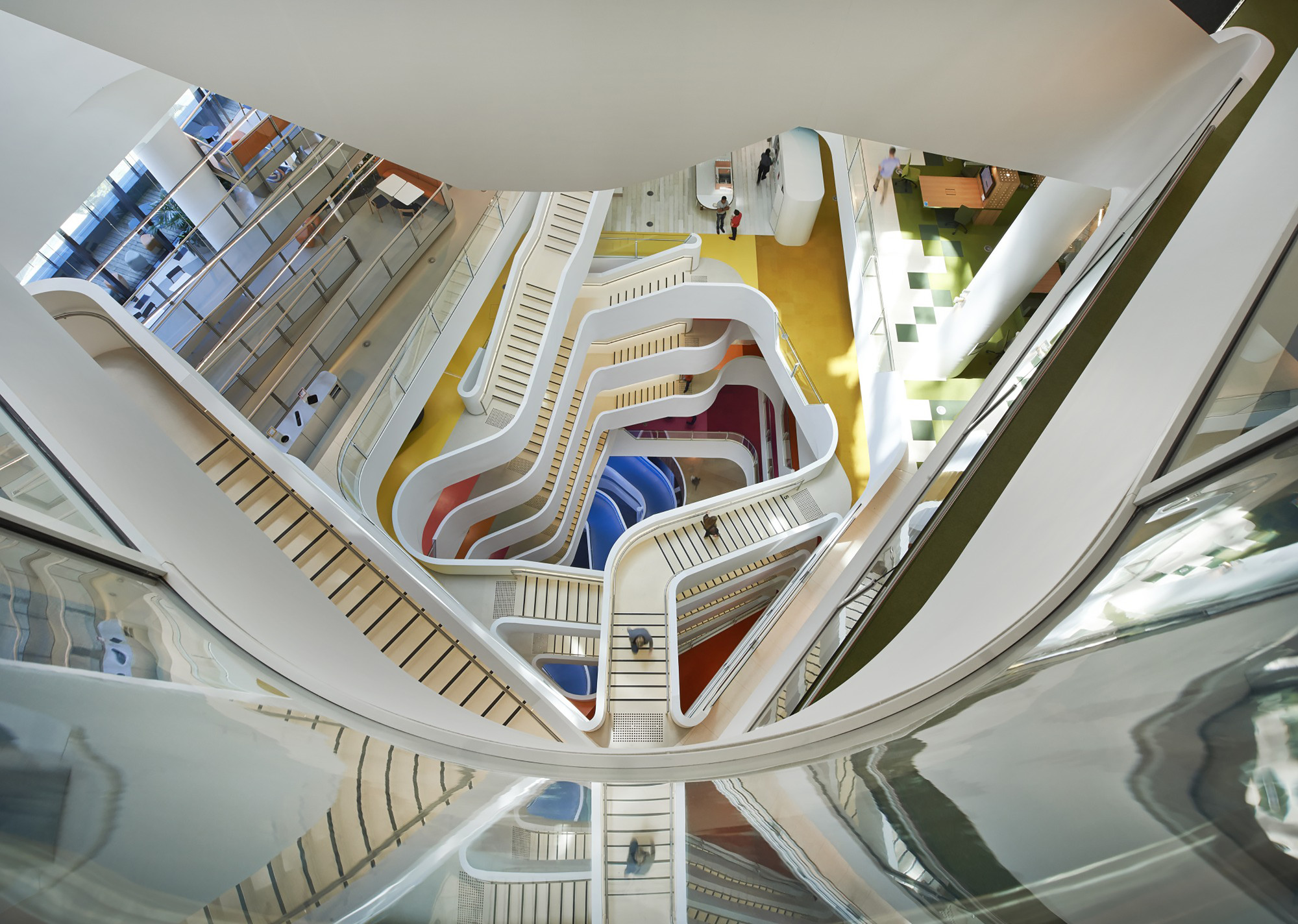 Image source: Earl Carter
The unique staircase in this Australian office resembles M.C. Escher's "Relativity," - an artist, not some dodgy east European DJ). Medibank's dizzying architectural feat consists of 26 types different work environments to help maximise performance. As a health insurer they practice what they preach with 2300 plants, edible gardens and a multi-purpose sport court. If that doesn't make you feel healthier, climbing all those stairs will!
3. Fulfill your ADHD aspirations at Google in Zurich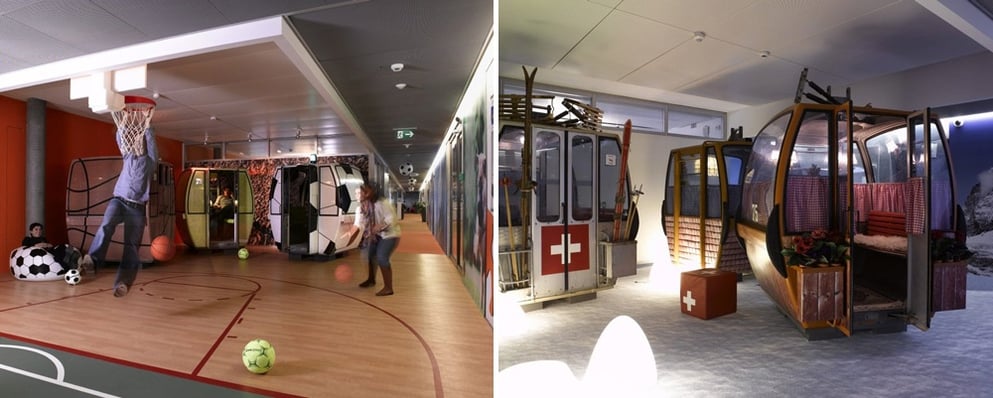 Yes, we are banging on about Google again, but for good reason. In the Zurich office Google have managed to create an elegant office space with an ADHD mindset, it just has it all. Heck, you can get a massage and relax in a bubble bath before you walk past an aquarium to slide out the door on a fireman's pole at the end of the working day. Sod coffee meetings, grab your teammates and slouch in a Gondola before you get your LeBron James on in the basketball court when you're done. Let's face it, the only thing that might be missing from this office are the bottles of will power you'll need to actually do any work.
4. Chill out man and find your zen at Headspace in California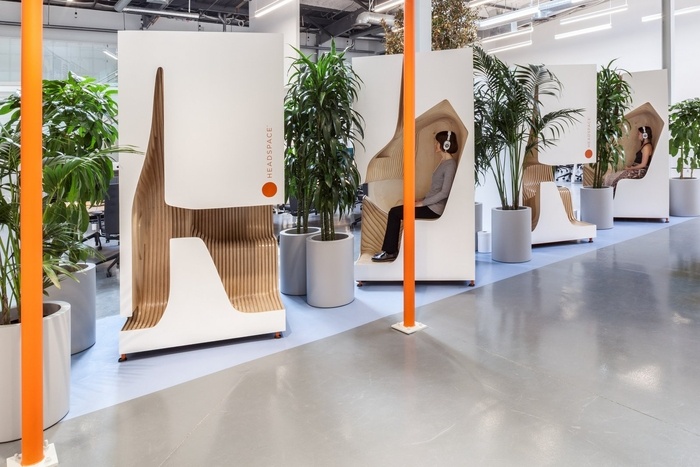 Image source: Wundr Studio
If you would choose a nice cuppa over a cocktail - some of us have to be sensible we guess - then this is the office for you. Headspace help employees recharge and reach their 'inner peace' with specialised meditation pods and a silent room. Their modern Buddhist approach also includes minimalist design, innovative recycling solutions and two minute meditation exercises at the beginning of every meeting. No Bridget Jones style exits, giving the boss the middle finger or drop-kicking of computers are likely in this office, although there is a possible chance of snoring.
5. Get playful and imaginative at LEGO in London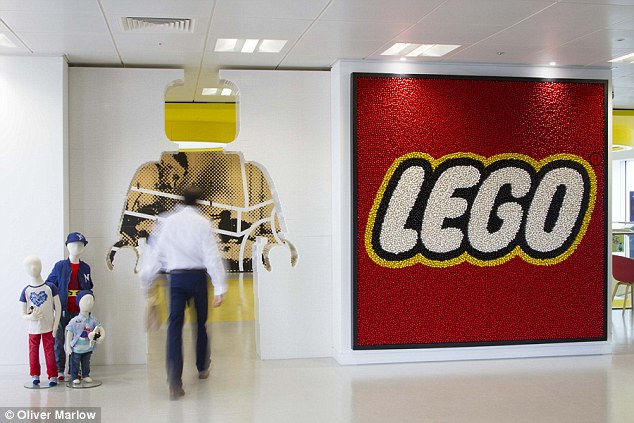 Image source: Oliver Marlow
Imagine if you could create your own office out of Lego and then magically shrink to work inside it? Done. The four storey building in London includes a toy brick archway, play zones and several unique work environments for the teams. There's also no fixed seating arrangements to encourage collaboration and chance encounters that can spark new ideas. It's all very innovative.
6. Urban chic style and convenience at Vodafone in Istanbul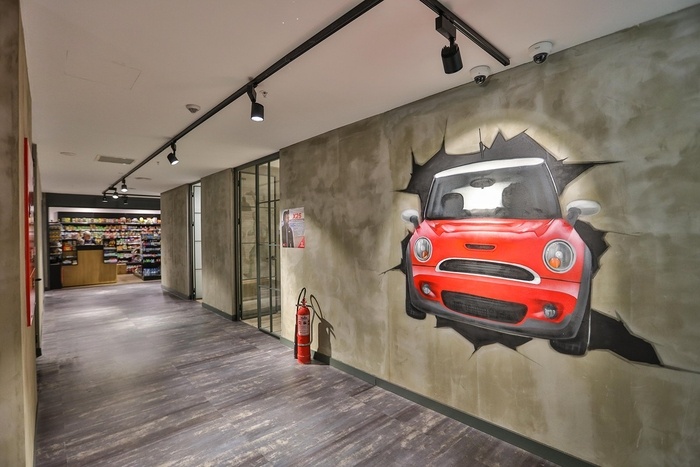 Image source: officesnapshots.com
With their urban street corridors, deceptive storefront entries and convenient amenities including a hairdressers, market, tailor and shoe shine facility, you'd think you had entered some upscale shopping complex. Nah, it's just how Vodafone roll… and that's just one floor. At their Istanbul location there's also a big garden and outdoor seating with further break down boundaries between a working interior and exterior. Staff can feel good, look good, work good and pound the streets without ever leaving work.
7. Helter Skelter to your desk at Mind Candy in London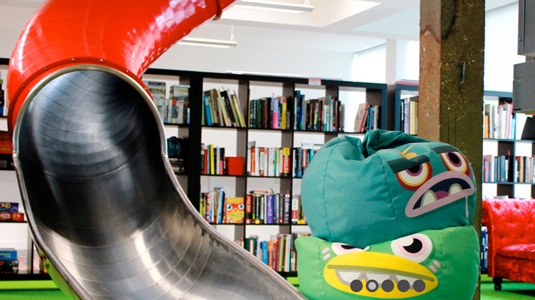 If you're more country lover than urban hoodrat, then game company Mind Candy in Shoreditch may just be the office for you. A fantasy haven inhabiting monstrous "Glump" beanbags, wooden treehouse meeting rooms and a helter skelter style slide, Mind Candy let their employees work in their vision of a fantastical novel/film/larking simulation.
Just don't try eating the walls of the gingerbread house meeting room unless you want to get a reputation as "that" person in the office! Lol, Andrew, remember that time you ate the walls...
8. Create your own space at Cartoon Network in Atlanta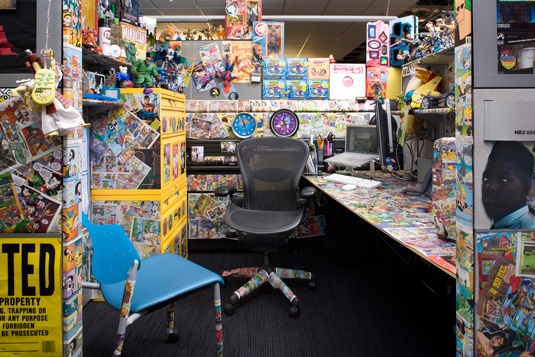 Image source: designtrends.com
While a 'cubicle based system' doesn't sound that appealing, it certainly is here. Cartoon Network in Atlanta let staff personalise their workspace to a whole new level. If your Adventure Time coffee mug or penchant for Star Wars and Unicorns has raised eyebrows before, you shall be alienated no more.
Staff have the freedom to customise their own cubicle however they like - within reason...page 3 cut outs may be on the tad more offensive than a cute pic of your kid's pasta spiral art. While you may get to enjoy creating your space with the will of a young child, the trick of course is not to get too distracted and still get some work done. Good luck!
9. Dig Data with Da Beer & Debauchery at Datto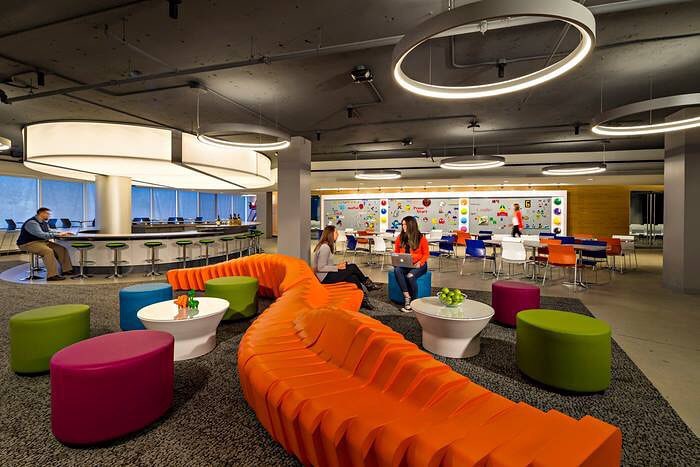 Image source: officesnapshots.com
Let's face it, working in data is not a sexy role. If you were to go on a date and the subject of what you do for a living came up, they may shudder and flashback to school days of unsolvable maths equations, before promptly giving the old "we should just be friends" line. But would you care working at Datto? The Connecticut Data company is surely most millennials' dream workplace with gaming areas, beer taps and a huge Lego wall.
10. Make fantasy a reality at Inventionland in Pittsburgh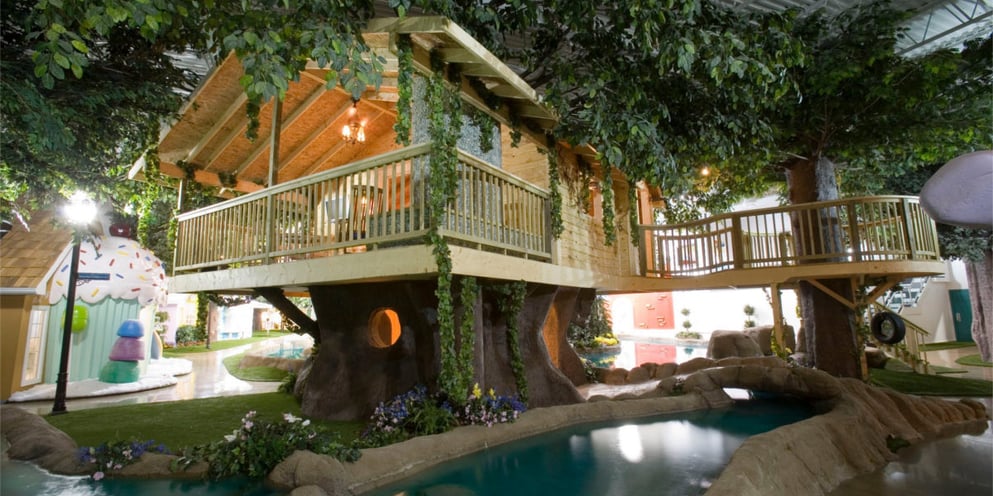 Image source: designtrends.com
Inventionland is the design facility of Pittsburgh based invention promo firm Davison Design & Development. It boasts a playground of fantasy work environments to inspire creative and inventive products. Whether you dream of getting your daily files prepared on a pirate ship, trekking through jungles to do the morning coffee run or having your end of day meeting in a Camelot esque castle. Working at Inventionland would help any day dreamer's mind thrive.
Who said work has to be dull?
Well, by now you should be feeling pretty excited about the possibilities out there. We mean, why work in a boring office when you can shoot down a flume, mess around with Lego or play some basketball in your lunch break? All work no play? Not anymore...